Monthly Archives: August 2019
Daily Archives: August 26, 2019
RUPCHA organised its 29th AGBM at Navinta on Saturday, 17 August 2019.  The meeting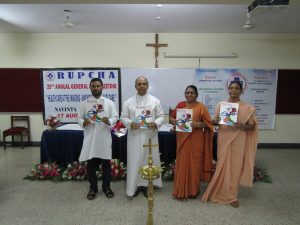 started at 9.00 a.m. with Solemn Mass. His Grace Anil J.T. Couto, Archbishop of Delhi was the main celebrant.
Inaugural Session started at 10 a.m. with a general welcome followed by a prayer dance by Miss. Alma.  Fr. Arockia Dass led the prayer service.
Sr. Lizy, President of Rupcha invited the dignitaries His Grace Anil Couto, Sr. Victoria Narisetti President of CHAI, Fr. Dr. Sebastian Director Rupcha, onto to the dias with a bouquet and extended a warm welcome to all the delegates. Around 100 participants attended the meeting.
Chief Guest, His Grace Anil Couto, Archbishop of Delhi lighted the lamp followed by other dignitaries.  He also presided over the meeting.
The Chief Guest released the Annual Activity Report of RUPCHA by presenting copies to other dignitaries. Copies of the report were circulated among the participants too.
Sr. Lizy Abraham presented the highlights of AGBM.
Sr. Victoria Narisetti, President of CHAI, in her message, spoke about CHAI's Vision 2030: Healthcare at the Margins – Innovation for Quality Care.
All the dignitaries were felicitated with mementoes.  The inaugural session was concluded with the vote of thanks by Sr Reshmi at 11 a.m.
Business Session
The business session began at 11.30, with a welcome speech by Fr. Reginald.
Sr. Susheela, Secretary to presented the minutes of the previous meeting.
Fr. Sebastian, Director of Rupcha presented the activity report for the year.
Sr. Vinaya UMI, Treasurer, presented the audited report and budget for the next year.
Fr. Sebastian explained the advantages of central procurement scheme and asked MIs cooperation.
Next the election to the board was taken up.  The following members were elected to the board.
Sabu PL, Director of Fatima Hospital, Gorakhpur as a Member & Vice President,
Viju Sebastian, Director of St. Mary's Hospital, Bijnor as a Member and
Ally Joseph MSJ from Mariam Nagar Hospital, Ghaziabad as a Member & Secretary
Sr. Lizy thanked all outgoing members for their commitment and support.  She congratulated and welcomed the new members.
The session has concluded with the vote of thanks.
Scientific Sessions
The presentations for the Scientific sessions were:
Sterilization of Hospital Instruments through Sterrad Machine, by Johnson & Johnson.
Telemedicine: Enabling Quality Healthcare by Dr. Sachin Malhotra & team.
Cancer & iBreastExam by Dr. Sumedha Kushwaha & team of UE Life sciences.
'Transitioning Community Hospitals to Referral Medical Centre' presented by Mr. Ankur and team from CapBuild Clinical Skills.
Central Purchase of Medicines, presented by Jimmy Joseph, National Medical Services Consortium.
The meeting concluded at 5 p.m. with the vote of thanks by Fr. Sebastian.