30th AGBM of RUPCHA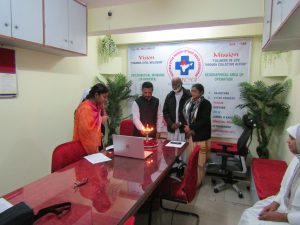 The 30th Annual General Body Meeting of Rupcha held on Virtual Platform (Zoom) on Thursday, 26 November 2020.  Virtual meeting was the only possible way to conduct the AGBM, due to Covid-19 pandemic related restrictions.  The meeting was started at 10.30 a.m. 70 members were participated in the meeting.
Sr. Lizy Abraham MSA, President, Rupcha welcomed all the dignitaries and delegates. She quoted that though the AGBM is a golden opportunity, we couldn't make it this time to come together physically to celebrate our togetherness and to gather our thoughts and views as a collective body. However we learned to think differently, to take new directions, to find meaning in chaos, become accommodative and innovative in the pandemic period.  She specially welcomed Rt. Rev. Bp. Francis Kalist; Rev. Dr. Mathew Abraham, Director of CHAI; Ms. Tehmina Aroda, Director of ADF India.
Thereafter, Chief Guest His Lordship Bp. Francis Kalist, Bishop of Meerut Diocese & Ecclesiastical Advisor to RUPCHA, inaugurated the meeting by lighting the lamp and followed by other dignitaries.
Sr. Lizy Abraham presented a key-note address.  She mentioned about the year of Nurses and Midwives. They are partners in the healthcare ministry and the whole world has witnessed their heroic activities.
Most Rev. Francis Kalist has delivered his message on this year's theme: '2020 – International year of the Nurse and Midwife'.  WHO has designated the year 2020, in honour of the 200th anniversary of Florence Nightingale's birth on 12 May 1820. She has been described as a caring and trailblazing British nurse, statistician, social reformer and leader of improved health care who is widely regarded as the founder of modern nursing. The nursing pioneer campaigned healthcare improvements, especially on infection control.
Nurses and midwives are the cornerstone of health systems, providing skilled and compassionate care and leadership around the clock providing health services, safe and quality care for the people around the globe.  He appreciated and honoured the selfless service and sacrifices of all health workers from bottom to top especially those at the grassroots and in the remote villages struggling hard to provide health services and the love of Christ.
Rev. Dr. Mathew Abraham, Director of CHAI presented his message on the theme '2020 – International year of the Nurse and Midwife in the Indian Context'.
Sr. Dr. Preeti Margaret BS & Sr. Lilly MSJ presented their messages on Covid-19 pandemic & their experiences in rural areas and the voices of struggles and stresses of the people, in their peripheries.
The scientific session was led by Ms. Tehmina Arora, Director of ADF India.  She presented the topic on 'FCRA 2020 Amendment and its provisions, impacts & concerns'.  She briefed about the impacts like how it discourage inter charity donations, how it control administrative expenses, opening new accounts, increased surveillance, enhanced inquiry during renewals and suspension or surrender procedures. It will impact mainly smaller NGOs and their existing commitments, tax liability, etc. There will be increased control of NGOs.
Thereafter Fr. Sebastian once again explained all the main points of FCRA act amendments, its 9 significant changes, 3 major changes affecting NGOs work, directions to open a FCRA bank account, revision and implications, the way forward, etc in a simplified form.
The business session started with welcome note by Sr. Lizy, the President.
Fr. Sebastian has given introductory remarks and presented a message on Covid-19 pandemic: A disaster, opportunity & a possibility. He explained how our institutions can change the disaster to a opportunity and a possibility.
Sr. Ally MSJ presented the minutes of last AGBM.
Fr. Sebastian, Director presented the activity report for the year 2019-20.
Sr. Vinaya Francis UMI presented the financial reports for the year 2019-20 and the forecast for the year 2020-21.
Fr. George PA & Sr. Vinaya Francis UMI were elected as board members.
The meeting was concluded with a vote of thanks by Fr. Viju Sebastian, Vice President of Rupcha and blessing by His Lordship Bp. Francis Kalist at 1.30 p.m.