Member Institution & Community Visit
Member Institution & Community Visit
As part of the Project – 'Enhancing collaborations with Government & Scale up services of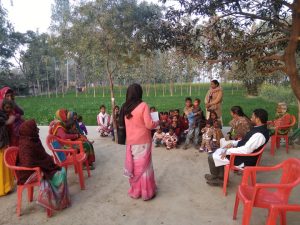 community health interventions' and Member institution & community visit, on 17th January 2019, Fr. Dr. Sebastian, Director of RUPCHA along with Indira Rani, PM-CHAI; Sam Philip, RPO and Sr. Lalitha, Coordinator, Santhi Niketan visited Chaku village near to Lucknow.
Ms. Prameela, Community Animator welcomed the team and arranged a focus group meeting along with the children and women. She has taken an awareness session on the Importance of Health and Hygiene to prevent communicable diseases. After the session, they discussed about the social and health issues of the community.  The issues listed are follows:
Some families don't have proper toilet facility
Some of them are using the toilets for other purposes (using as store or keeping sheep and Lamb)
Lack of transport facilities for bedridden patients and pregnant women. They are forced to travel by two wheelers to reach the PHC/Hospital.
Due to the poor financial status many of them are unable to afford the cost of transportation and treatment.
Through the activities conducted in the village, we have some significant achievements:
Number of institutional delivery increased
Use of Toilet facility increased, especially by women & children
Reduced the open defecation
Number of school drop-out cases reduced
Reduced the number of new TB and HIV Cases