CH Project at Jahangirpuri
Introduction: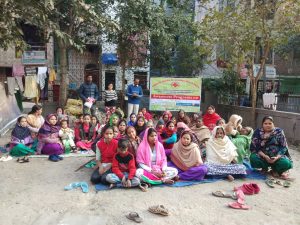 We would like to express our sincere gratitude to MANOS UNIDAS for the moral and financial support given in the implementation of the pilot project – 'Integrated approach to community empowerment & health among the slum dwellers & migrant workers of Jahangirpuri Slum, Delhi'. The community health project was implemented for the slum dwellers &migrant workers for the 4 blocks (D, E, EE & K blocks) of Jahangirpuri Slum, Delhi.  RUPCHA launched the project in May 2017 and concluded it in May 2019.  We present herewith the 2nd year activity report and outcome of the project.
We are happy to state that we have achieved our overall objectives within the stipulated time. Through our project activities we were able to raise the status of the target community, especially of women & children, to some extent. The project focussed on community mobilization, awareness generation about CDs & NCDs, healthcare, health rights, hygiene, sanitation and formation of grassroots organizations and it produced satisfactory results.
To continue click: ch-project-at-jahangirpuri-2nd-year-descriptive-report